Brotech Electronics, established in 2002, is a small group of experienced electronics engineers, located on Long Island, New York. We design and manufacture reliable and cost effective Custom Electronic Products to customer requirements. We also design and manufacture our own products; Professional Music Intrument Effects Boxes - Stomp Boxes, Medical Device Test Equipment, Midi Players, Midi Controllers and Midi Sequencers. We also repair tube amplifiers and Harmidi Midi Players.
Tell us about your custom electronics design needs

MIDI PLAYERS:
MINI MIDI SEQUENCER+
MEGA MIDI SEQUENCER

NEW: Mini Midi Sequencer+
Select play mode - Tablet Remote or Random or Sequential Play using the Play Mode Switch!
CUSTOM MEDICAL DEVICES TEST FIXTURES
NEW: Stethoscope Acoustic Performance Evaluation Tool
A comprehsensive Engineering and Quality Assurance tool to measure, compare, and evaluate Stethoscope Acoustic Performance, with swept frequency graphing feature!
EFFECTS BOXES
The Mini Midi Sequencer+ and Mega Midi Sequencer (mMS+ and MMS) are tablet controlled midi players, designed especially for use on midi enabled automated musical instruments such as a band organ. It works with all midi to parallel interfaces. The mMS+/MMS reads type 0 midi files from a local SD memory card, decodes and sequences the midi information and streams it to an external device. The hardware is controlled wirelessly via Bluetooth linked to an Android 7" tablet (8" HD optional). The tablet acts as a remote directory and file name viewer and selector, and has soft keys for Play Selection, Stop, Play Sequential, Play Random, Tempo Change, and more... Select Tablet Remote or Random or Sequential Play mode using the front panel switch. Also, play songs from a playlist that you create using our MMS Playlist Editor App! We also offer for multiple installations, optional rename Bluetooth feature!
We manufacture two Stethoscope test tools, 1) Acoustic Performance Evaluation Tool, used for Design and Quality Assurance work, and 2) an Acoustic Transmission Test Tool, to test for blocked path from the chestpiece to the binaural for use in a manufacturing environment.
1) The Stethoscope Acoustic Performance Evaluation Tool is a versatile Engineering and Quality Assurance test tool that can be used to measure, compare and evaluate acoustic performance of a stethoscope. It includes custom desktop computer software and customized hardware mounted in a noise-reduced enclosure, communicating through a USB port. It works by supplying an audio signal to the stethoscope chestpiece, while monitoring amplitude at the binaural: scope performance may be gauged by frequency response and amplitude. The amplitude is measured in calibrated decibels (dB). Can be used in two modes: Swept Frequency Graphing, and Fixed Frequency Testing.
Wemanufacture innovative, sophisticated Effects Boxes for guitar, Fatpipe Pro and Fatpipe Blues, at a price point that is accessible to most musicians. These Effects boxes are high tech in design and manufacture, using surface mount technology, built with high quality components, all mounted in rugged solid cast aluminum chassis. They are built tough for the professional musician, but are affordable for aspiring newcomers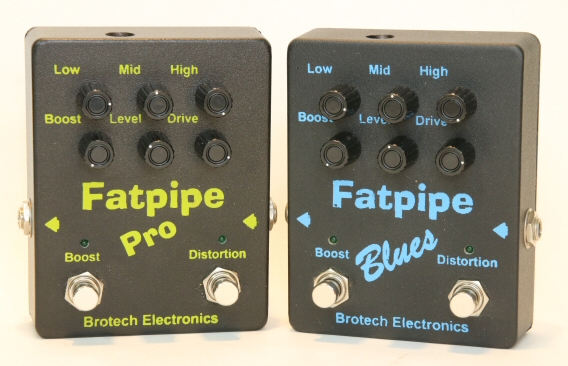 Links: Additional Information